Hello, my name is Lawrence Ujimori (webmaster) and thank you for visiting my site. My mission is to provide accurate information about table tennis in Hawaii. I will have listings for current playing sites, tournaments, news and rating information.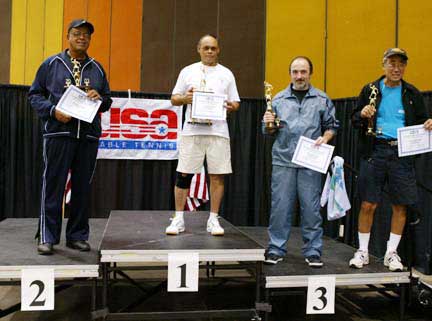 Congratulations to Frank Correa, George Brace and Paul Ishimitsu for placing 1st, 2nd and 3rd respectively (Unrated Division) at the 2003 U.S. Nationals. Frank and Paul are from Oahu and George is from Kauai.
Congratulations to Jack Chen for placing 2nd (Unrated Division) at the 2006 U.S. Nationals.
EDITORIAL:
The Hawaii Table Tennis Club should function on running Tournaments, and Exhibition Events only. The Club will have to find/pay for a storage facility for the tables. To generate revenues, the Club should make it mandatory for all tournament participants to pay for an annual membership. This can be accomplished by adding it on the entry fee forms.
Players can still practice at all the other free sites.
HTTC RANKINGS:
Updated July 2008
TOURNAMENTS:
2009 Aloha State Games 7/3/09 - 7/4/08
Schedule of Events
2008 Aloha State Games Results
HTTC Tournament 3/30/08
Tournament Results
HTTC Tournament 11/25/07
Tournament Results
2008 Senior Olympic Games 11/15/08
2004 Japanese Goodwill Friendship Tournament 5/15/04
2001 Seniors Open 1/25/01 & 1/26/01
2008 Big Island Open Tournament 11/8/08 and 11/9/08
2006 Big Island Tournament 11/11/06
Tournament Flyer
2005 Maui Table Tennis Tournament 4/28/05 & 4/30/05
Tournament Flyer
ARTICLES
Andro Newsletter - January 2009


Butterfly Newsletter - June 2009
Hawaii Newspaper
INTERNATIONAL TT NEWS
6-14-09: Japan Open
Experience Ensures Korean Crown, Jolts German Goal and Hinders History